The Silicon Review Magazine listed MCO among 50 leading companies of the year 2021 and published an interview featuring our CEO, Brian Fahey. He explains the company journey to help financial services firms to meet regulatory expectations and reduce their risk of misconduct.
Article originally published at TheSiliconReview.com
Regulatory Compliance weighs heavily on those running Financial Services firms, especially small to medium-size enterprises (SME). These firms do not have the same resources to meet the multitude of regulations as larger firms. Despite the inequity, no firm gets a pass from their compliance obligations. That said, compliance automation is for all firms – no matter the size. Today's systems are much more affordable than one may think and provide an immediate ROI. New York-based MCO (MyComplianceOffice) is an expert organization in this space and provides Conduct Risk compliance solutions that address conflict of interests across employees, firm transactions, and third parties.
Brian Fahey, MCO's Chief Executive Officer, has been delivering compliance solutions for the capital markets industry across the US, Europe, and Asia for over 30 years. He created MCO in 2008, and since then, the company has been investing in its technology to support firms with their compliance obligations. MCO provides an affordable, easy-to-use, integrated solution that helps financial services manage code of conduct activities and mitigate misconduct risk.
"SMEs have to comply with the same regulations as larger corporations, and they do not always have the resources to accommodate the software. However, using spreadsheets to manage compliance checks and monitor conflicts of interest manually can create a high risk for these firms," explained Brian.
Moreover, the recent events and the pandemic highlighted the SME's inability to adequately manage and monitor employee compliance activities. Small and Medium-sized firms have traditionally been underserved in terms of compliance solutions that meet their needs, and 2020 revealed how crucial it was for firms to enhance technology use to manage compliance activities. "We have many large financial institution customers, but we also saw an opportunity in the market to offer a scalable and affordable solution for smaller firms. MyComplianceOffice is a complete compliance solution that meets SME's compliance needs as well as being a scalable software that can grow as businesses evolve," said the CEO.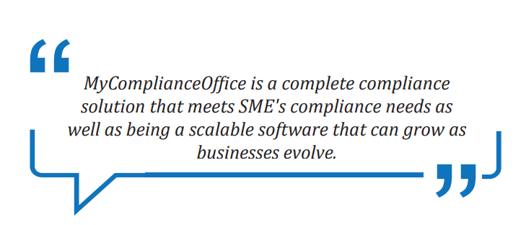 In 2020, there was also a regulatory focus around personal account dealing and insider trading, considering the rise of conflicts of interest and potential market abuse during the pandemic. As a result, firms have been demanding a solution with prompt deployment to simplify Compliance. MCO came to the rescue. "A key part of working with SME is to get implementation right, on time and budget. MCO gets clients functioning quickly, delivering an outstanding implementation experience. We also provide an onboarding program and support for user adoption with hands-on user training, help guides, videos, and a portal with experts available 24/7. Our aim is to enable firms to ensure full Compliance with a technology that integrates functionality and data, ensuring nothing is missed from a Compliance perspective," added Brian Fahey.
"MCO's offerings have enabled companies around the world to reduce their risk of misconduct," Brian Fahey.
MCO's powerful platform lets compliance professionals demonstrate that they are proactively managing the regulated activities of employees, third-party vendors, and other agents of the firm. It is available as a unified suite or à la carte, easy-to-use, and extensible SaaS-based solutions that get clients up and running quickly and cost-efficiently. At the center of everything that MCO offers is the quintessential automation component, which promises to make life easier for SMEs. "We've built our passion and proficiency for compliance automation into every product, empowering clients of all sizes to maximize technology to minimize conduct risk," concluded Brian.
The company has been recognized widely for its work in the past two years, including by the 2020 Deloitte Technology Fast 50 and RegTech100 list for 2020.