The ASIFMA Compliance Week focused on various relevant topics for Compliance professionals, from culture and accountability to technology and innovation. Industry experts shared their insights during four days of sessions on regulatory enforcement trends, conduct, culture, the future of compliance, and market abuse.
MyComplianceOffice was delighted to participate in this year's event and ASIFMA's first virtual conference. Our Asia-Pacific director, Kelly-Ann McHugh, moderated a panel discussion on day 2 with the topic "Conduct Culture and Accountability Regime - Coordination across Different Countries".
A panel of experts joined Kelly-Ann during the discussion, including:
Marilouise Hughes, APAC Head of Conduct Risk Management ICRM, Citi
Natalie Curtis, Partner, Financial Services Regulatory, Herbert Smith Freehills LLP Singapore
Jon Witts, Head of Enforcement, Listing Division, Hong Kong Exchanges and Clearing Limited
William Hallatt, Co-Chair of Global Financial Regulatory Practice, Gibson Dunn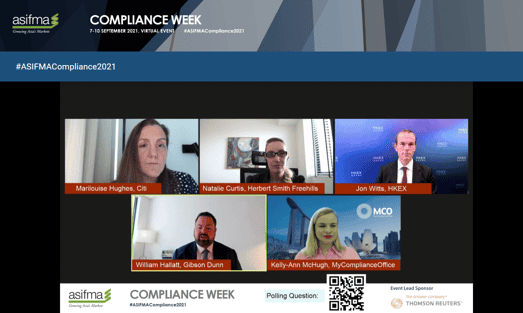 Between FINRA, BEAR, FAR, IAC, MIC, and SMCR, many regulations are hoping to improve conduct and culture in organisations. During the session, in a poll, attendees were asked 'How mature is your organisation's approach to culture & accountability?'.
The results showed that most firms:
Have an approach in place that requires further development.
Other attendees feel their firms have a robust and embedded approach and that the concept of 'conduct, culture, and accountability regime' is not new – it's ever continuing.
Different approaches between small and larger organisations
Panellists discussed that there is no one-size-fits-all formula to address culture and conduct issues in an organisation or a pre-made framework to be used to implement accountability regimes, especially because firms work in different jurisdictions and need to comply with local regimes in these countries.
While firms with different sizes must comply with the same rules and regulations, what they do internally to meet the standards might differ. It's important to remember that such regimes and a successful compliance program require continuous review, measurement, and assessment.
In addition to the different challenges faced in different regions, we have encountered the biggest challenge faced by Compliance teams, COVID-19, and the remote oversight of staff, which directly impacts culture and increases the risk of poor conduct.
Firms had to make a huge effort to operate during the COVID-19 pandemic. It provided a great way to demonstrate compliance culture due to the investment and training required to keep businesses running and staff protected and supported.
Singapore Individual Accountability and Conduct Regime
The experts provided a background of recent accountability regimes and shared an overview of how these regimes have improved. The panel talked about similarities and differences among accountability regimes in the US, Australia, New Zealand, Singapore, Hong Kong and in the UK and what firms and industries are doing to improve culture and accountability.
Americas

Australia/New Zealand

Asia

Europe

FINRA

1. Supervisory mapping/branch

2. Location mapping/branch

1. Banking Executive Accountability Regime (BEAR) to evolve to Financial Accountability Regime (FAR)

2. CPS 520 Fit and Proper

3. ACL and AFSCL Responsible Managers, Directors and Company Secretaries

1. Hong Kong: Manager in Charger (MIC)

2. Singapore: Individual Accountability and Conduct (IAC)

1. UK: Senior Managers and Certification Regime (SMCR). Regulatory Reporting Lines

2. Ireland: Senior Executive Accountability Regime (SEAR)
Then the panel talked about some vital points for firms to consider when implementing the Singapore Individual Accountability and Conduct Regime. The regulator suggests educating and guiding employees on what the regime is about and what it covers as a first step.
Employees need to know where their responsibilities fall and the implications if they fail to meet their obligations. Jon Witts, Head of Enforcement at the HKEX, added a few questions for firms to consider:
Is my framework effective, and is it preventing non-compliance?
Do my leaders and senior managers have the right skills and attributes? If not, which attributes should they have?
Are my policies and training programmes effective? Do they send the right message to employees regarding the company culture and conduct expected from employees?
Does the firm have systems and controls with the right alert triggers? If it does, who reacts and how do they react to the triggers?
Are these people proactive if they get an alert that something is wrong? Do they know what to do?
To conclude the session, the experts discussed practical ways to implement the various regulatory regimes, including reviewing the effectiveness of incentive systems, looking at the impact on individuals and understanding the feedback loop from external clients.
Would you like to further understand the Singapore Individual Accountability and Conduct Regime? Consider watching this Thomson Reuters webinar with experts Nathan Lynch and Niall Coburn where they provide an overview of the regime and a global perspective on the topic.