On 11 January 2023, the Financial Conduct Authority (FCA) published a "Dear CEO" letter to wholesale broker firms, highlighting key risks and drivers along with their supervisory focus for the next two years. The letter places particular emphasis on the Senior Managers and Certification Regime (SMCR), market abuse, personal account dealing-and the need for firms to have robust systems and controls in place to effectively manage and evidence these risks.
With the end-February 2023 deadline for next steps looming, time is of the essence for senior executives and board members to review the current state of compliance in these areas and develop an action plan to fill in the gaps.
A new strategy for supervision
The FCA's "Dear CEO" letter was written to remind wholesale brokers that they must step up their efforts to mitigate compliance risks. At best, brokers improve customer outcomes and provide safeguards around market integrity, however, the letter notes that wholesale broking firms are currently lagging in stopping poor conduct.
FCA's 2022-2025 Strategy Focuses on Data, Conduct Risk and Outcomes
The FCA expects firms to have robust systems and controls in place that can detect instances of misconduct quickly and accurately. This includes having measures in place to detect insider dealing, market manipulation, spoofing and front-running.
The FCA has drawn on recent supervisory work to identify key areas of focus. These areas include:
Compliance with regulatory obligations regarding market abuse prevention and detection;

Adequate systems for detecting potential insider trading;

Effective processes for mitigating conflicts or risks related to personal account dealing; and

Appropriate management of material non-public information (MNPI) within the firm.
"Too often, firms' control functions are not properly resourced or empowered to effectively challenge the business, resulting in compliance controls that are inadequate for effective risk management." - FCA Dear CEO Letter
The letter notes that when compliance functions are properly empowered, firms have reduced exposure to risk along with the ability to make better day-to-day business decisions. The agency has consistently found that failures in oversight and poor decision-making play a key role in exacerbating compliance issues and delaying resolution. The agency has also found failures to conduct proper background checks when hiring new certified staff. Firms must be in compliance with SMCR to ensure individual accountability and suitability plus good decision-making is embedded in the firm's policies, procedures and controls. Learn more about meeting the regulatory obligations of SMCR.
"Financial crime and market abuse mitigation are areas where we commonly find brokers have weak systems and controls, and firms should continue to develop safeguards to mitigate these risks." - FCA Dear CEO Letter
Market abuse mitigation is another area where the FCA commonly finds that brokers are not meeting current regulatory standards. Firms should review FCA Market Watch 62, where the FCA shares its concerns about personal account dealing (PAD) and Market Watch 69 where the FCA discuss firms' arrangements for market abuse surveillance to better understand their obligations.
MNPI Remains a High-Risk Area for Compliance
The FCA expects firms to be in compliance with all relevant rules and guidance – and have the risk and control functions, board-level influence, clear policies and procedures and culture to achieve that compliance. It's the role of the executives at the firms to ensure the infrastructure is in place and all members of the firm are compliant.
Automate employee personal trading to mitigate risk
MCO's Personal Trade Manager solution provides firms with an automated, cost-effective and efficient way to monitor employee trading activity in real-time. By running pre-clearance rules that automate the approval process, flag potential issues and check trading activity against restricted lists and insider trading rules, compliance teams can quickly identify and address potential issues before they become major problems. This helps speed up investigations into potential violations while also ensuring that all employee trades are being monitored effectively and consistently across the board—a key regulatory requirement.
The platform facilitates annual employee attestations and disclosures so employees can declare their holdings in accordance with regulations. The solution provides a full audit history of pre-clearances and order attempts so organisations can review their processes at any time with ease.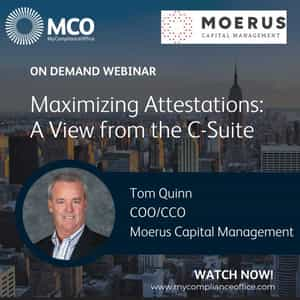 Watch the on-demand webinar Maximizing Attestations: A View from the C-Suite
The FCA's "Dear CEO" letter serves as an important reminder that firms need to be aware of their regulatory obligations and take proactive steps towards ensuring compliance.
According to MCO's EMEA-based Sales Executive George Bartlett, "the FCA will expect to see clear evidence of a plan for comprehensive compliance governance. This really brings the need for personal trade automation into focus, along with strong systems that can easily provide the proof of appropriate oversight that the FCA is expecting to see. And given that firms must be able to have agreed on action items and next steps at the board level by the end of February 2023, quick action is imperative."
To meet with George and our team to see how MCO is helping firms automate employee trading compliance, manage MNPI and insider trading risk and ensure compliance with SMCR as part of an integrated and complete solution, click here to set up some time for a demo.