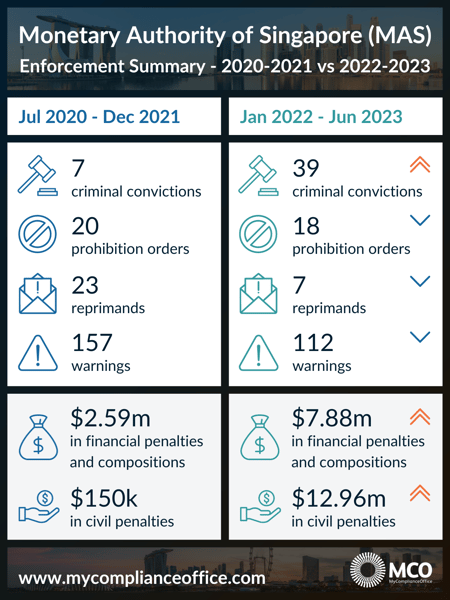 MAS enforcement actions between January 2022 and June 2023 include 136 cases opened, 39 criminal convictions, and SGD$20.8m in financial penalties. These figures show significant increases in enforcement actions over the previous 18-month reporting period (1 Jul 2020 - 21 Dec 2021).
In the current period, MAS enforced 32 more criminal convictions and $18.1m more penalties over the 2020/2021 timeframe. Prohibition orders remained relatively steady at 18 vs 20 in the previous period.
MAS says it strives to "administer a firm and fair enforcement regime in Singapore's financial sector" by partnering with the Commercial Affairs Department of the Singapore Police Force, the Attorney-General's Chambers (AGC) and the Accounting and Corporate Regulatory Authority (ACRA).
See the full MAS Enforcement Report 2022/2023.
MAS Enforcement Priorities
MAS states that it has three clear aims in administering enforcement that deters misconduct, protects consumers, and maintains investor confidence, which are:
Early detection of misconduct and breaches of law
Effective deterrence
Shaping business and market conduct
Financial Penalties and Criminal Convictions Enforced
The total penalties included $12.96m in civil penalties for false trading, insider trading, and disclosure-related breaches. Of the $7.88m in financial fines and compositions, an astounding $7.10m was for violations of Anti-Money Laundering (AML) and Combating the Financing of Terrorism (CFT) requirements.
These penalties are the highest since MAS Enforcement Reports began their publication in 2019.
MAS took 39 criminal conviction actions against offenders for breaching MAS-administered Acts, Regulations and Notices.
Of these 39 convictions, 13 individuals were sentenced to imprisonment, 10 to imprisonment with a fine/disgorgement of profits, and 16 to pay a fine only.
MAS reports 14 convictions for false trading, 6 for insider trading, 7 for deception/fraud under the SFA, 3 for disclosure-related breaches, and 9 for unlicensed conduct of regulated activity.
Additional MAS Enforcement Outcomes
MAS opened 136 cases during the reporting period, with insider trading topping the list at 32 cases. Disclosure-related breaches followed at 25 cases, false trading at 22, and carrying on regulated activities without a licence at 20. Each of these categories included cases under the MAS-CAD Joint Investigation Arrangement.
MAS and the Commercial Affairs Department (CAD) of the Singapore Police Force launched the Arrangement in 2015 and announced an extension in 2018 to cover all offences under the Securities and Futures Act (SFA) and Financial Advisers Act (FAA).
455 additional actions included 7 reprimands, 112 warnings, 49 letters of advice and 287 supervisory reminders.
Key Areas of Focus for MAS Enforcement Actions
MAS has outlined four key focus areas within its enforcement actions through the 2022/2023 reporting period.


Market Abuse
MAS has a strong focus on market abuse to help protect investors and uphold fair market conditions for all participants. It is heavily invested in proactive surveillance to enable early detection and timely intervention in potential market abuse cases.
MAS collaborates closely with key stakeholders, including brokers, SGX, CAD and ACRA, to detect and address misconduct.
In February 2023, the regulator also issued its Notice on Business Conduct Requirements for Corporate Finance Advisers, setting out due diligence requirements to further reduce the risk of disclosure-related breaches.
For ideas about reducing market abuse risk within your firm, see our article How to Reduce Insider Trading Risk and Stay Out of the Headlines.


Financial Services Misconduct
MAS aims to ensure that representatives of financial firms are deemed "fit and proper" to provide services to the public and ensure compliance with rules of business conduct. It notes that such oversight is vital to "upholding the quality of and public confidence in the financial services industry".
Enforcement outcomes for misconduct included 9-year prohibition orders against directors of the Singapore-based crypto hedge fund Three Arrows Capital Pte Ltd (TAC), Mr Zhu Su and Mr Kyle Livingston Davies. MAS found that Zhu and Davies had "failed to discharge their duties and were responsible for TAC's breaches", including failing to identify, monitor, and address risks associated with the cryptocurrency and digital asset investments under its management.
MAS intends to extend its current powers to issue Prohibition Orders (POs) through the Financial Services and Markets Act (FSMA), which should be fully implemented between 2H 2023 and 2024. Under FSMA, MAS will be able to issue a PO to any person who is not fit and proper to perform key roles, activities and functions across the financial sector. The new powers will enhance MAS' ability to address cases of serious misconduct in the financial sector.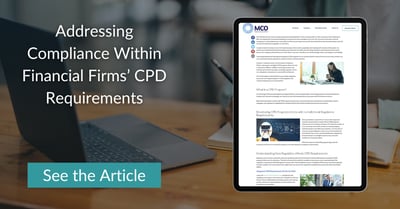 Read about the additional steps MAS is taking to ensure firms' representatives are deemed fit and proper with its recent revisions to FAA and SFA competency requirements. See our article MAS Revises FAA and SFA Competency Requirements.
Also, learn more about ensuring compliance with CPD requirements in our article Addressing Compliance Within Financial Firms' CPD Requirements.
Money Laundering-Related Control Breaches
MAS states that it "expects financial institutions (FIs) to have robust Anti-Money Laundering and Countering the Financing of Terrorism (AML/CFT) controls" to ensure timely detection and prevention of attempts to abuse Singapore's financial system for illicit purposes.
The regulator expects a firm's board of directors and senior managers to exercise strong oversight over Money-Laundering / Terrorism Funding (ML/TF) risks and implement AML/CFT controls. Senior managers must be aware of the requirement to properly discharge their duties in this respect – and the potential enforcement actions taken in cases of non-compliance.
MAS identified breaches of AML/CFT control requirements during examinations of 4 financial institutions (FIs). Total composition penalties of $3.8 million were imposed on Citibank N.A., Singapore Branch (Citibank), DBS Bank Ltd (DBS), OCBC Singapore (OCBC), and Swiss Life (Singapore) Pte. Ltd. (Swiss Life) accordingly.
The FIs were deemed to have inadequate AML/CFT controls in place when dealing with persons transactionally involved in, or with links to, Wirecard AG or its related parties.
Read more about this case in our article A Spotlight on SGX-Listed Companies' Regulatory Compliance.


Leveraging Technology
Through its enforcement actions, MAS aims to "uphold the integrity and reputation of Singapore as a trusted financial centre" and says it will continually refine and enhance its processes to ensure it is well-equipped to deliver effective enforcement outcomes.
MAS notes an exponential increase in digital evidence involved in cases and how it is meeting this challenge. The regulator says it is implementing an e-Discovery platform with additional features for the end-to-end handling of electronic documents obtained during the course of investigations.
MAS says it will continue to "leverage technology to improve our effectiveness and efficiency".
Firms should pay close attention to their technological capabilities in detecting and deterring unethical and illegal behaviours of employees. By leveraging RegTech (Regulatory Technology) solutions such as MyComplianceOffice (MCO), firms can more effectively identify potential compliance issues and help prevent enforcement actions.
MCO provides a consolidated platform for compliance teams to uphold regulatory compliance requirements and reduce risk across various areas, including:
Trade surveillance
MNPI disclosure
Personal account dealing
eCommunications surveillance
Close personal relationships
Attestations, registrations and licences
Outside business activities
Gifts, entertainment, and hospitality
Request your no-obligation demonstration of the MCO platform or further explore strategies to reduce risk and strengthen your overall compliance management process with our complimentary eBook, The Ultimate Guide to Conflicts of Interest.