MCO is a growing SaaS-based software company, and our employees make a significant impact on this success. We are pleased to show you the backstage of our operations, bringing you closer to our team members. The "meet a member of the team" series remove the attention from our products and services to feature our people.
This month, we're delighted to introduce you to a member of our Front-End team at our Dublin office, Conor Sexton.
Conor joined MCO in 2017 as a UX Designer, and since then, he's been working on new components, product features, and continued enhancements to the usability of the MCO platform. Conor has over 20 years of experience in digital product design and implementation, he truly understands design and works at MCO to create the best user experience possible for our customers.
Conor is passionate about Ireland and his hometown Dublin, where he manages a busy house with pets and kids. In addition, he's well known as a great competitor for our company steps challenges.
We asked Conor to answer a few questions, and this is what she said…
What do you do at MCO?
My official title is UX Designer, but in my three and a half years at MCO, I've been involved with everything that is at the heart of SaaS design. My primary function is to ensure design consistency across the platform, which includes layout, using common components and workflows.
I work as part of a Front-End team based in Dublin, and between us, we work on new components, product features, as well as continued enhancements to the usability of MyComplianceOffice, such as accessibility. I also support the Sales and Product teams in producing draft designs and flows for new products and business enhancements. It's very important to be involved from day one of new features or modules. Good design is founded on understanding the business requirements, and iterative design is also an aide to product analysis. At a certain level, designers double as business analysts, although offering a different perspective.
Describe a typical day at MCO?
Most of the morning is typically spent in meetings – the productive kind. The Front-End team talks about blockers, bugs and discusses new features or components in the pipeline. Product calls allow product owners and analysts to discuss ongoing and future work.
Working in design covers all parts of MCO, so you are responsible for supporting the teams working on each of the different modules of the solution. We use MS Teams in MCO, which is invaluable for quick responses, screen sharing and impromptu conversations, of which there are many.
A portion of every day will be involved in actual design. There is always a flow, a component, or a screenshot required that will feed into analysis projects and ultimately to the developers. I also do prototyping as part of our ongoing product development while engaging with prospective and existing customers about features we might provide in the future.
What you enjoy most about your job?
I have always enjoyed the visual aspect of software design. For me, this is the most enjoyable part of the development cycle. In a previous "life", I was a developer, and not actually having to code my designs still makes me happy! That said, my life as a coder has given me an appreciation of the realities of development. Compromise is key.
Although cliched, it is always enjoyable to work with great people – especially when our social interaction is limited to screens. MCO are lucky to have a diverse set of individuals who will still ask you how your day is going where there are ten more important questions to be answered.
What do you find most challenging about your job?
There is always the challenge of trying to keep your designs simple and uncluttered while also trying to guide users through a very complex workflow. The key to this is to be aware of the bigger picture from the outset, rather than adding new features or options onto a design that was not originally built with these in mind.
This can be especially challenging when trying to design a solution that will work for many clients, each of whom can have slightly different requirements.
What inspires you to do what you do?
Very often, design can equate to a logical challenge or puzzle. So, apart from the obvious pleasure in seeing a well-designed component, there's a particular feeling when your mind clicks into gear when faced with an issue. And solving issues is rewarding, particularly when the solution is simple and uncomplicated.
What's your favourite thing to do outside of work?
I'm back playing football finally after a year of lockdowns. I also took up running and ran nearly 1,000 km in the last year! Three kids, a dog and a cat, will do that to you. Other than that, I love old cars, movies and Sci-Fi.
My claim to fame is that I was in Game of Thrones (blink, and you'll miss me).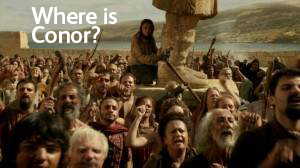 What do you like best about living in Dublin?
I grew up 10 minutes from where I live, and most of my friends and family are still close by. Dublin is big enough without being huge. And if you feel the urge for something different, you can reach most of the country in a few hours.
Pre-COVID, you could point to all the amazing pubs and restaurants Dublin has; now, you can point to all the great parks, beaches and forests, too.
What is your favourite food?
My homemade pizza – a firm favourite in our house. It's all about the toppings (top tip: Nduja sausage). If I'm not lazy, I even make the dough.
What is something that we would be surprised to know about you?
I have a Law Degree and worked as a tax consultant for three years. You might ask why I retrained as a designer.
To that, I answer: Did you ever dream of being a Tax Consultant? No? Neither did I.