MyComplianceOffice in partnership with Blue River Partners LLC hosted educational webinar. The webinar, to be co-presented by Brandon Ortiz, Managing Director at Blue River and Nancy Chilcote Director, Sales at MyComplianceOffice, will be the second in the 2016 webinar series from MyComplianceOffice.
Insider trading as a webinar topic is a timely one. Yesterday, in a federal court in Manhattan, the SEC brought allegations against Daryl Payton and Benjamin Durant of insider trading after the two traded on a tip about IBM's 2009 acquisition of SPSS Inc. David Axelrod, attorney for the SEC argued that the defendants knew their information was obtained illegally. The case, Securities and Exchange Commission v. Payton et al, U.S. District Court, Southern District of New York, No. 14-04644, challenges the definition and limits of the term insider trading.
Unfortunately, no employee is immune to the temptation of insider trading, including compliance and legal professionals. Last week, a partner in a Pennsylvania law firm representing Harleysville Group, Inc. during its merger with Nationwide Mutual Insurance Company was convicted of insider trading in U.S. v. Sudfeld, U.S. District Court, Eastern District of Philadelphia, No. 15-cr-00330.
Many in compliance may also remember when towards the end of last year, the SEC filed a complaint of insider trading against a compliance associate employed at a large investment bank. This compliance professional was able to misappropriate information he had access to as a result of his compliance duties and then traded on this information through undisclosed brokerage accounts because the firm did not have a monitoring system in place.
While most investors will have heard the term "insider trading," and most firms have some compliance policies in place, the February 17th webinar will provide a deeper dive into the topic and focus on what compliance officers should know in 2016, from the strict definitions of illegal insider trading prohibited by regulation from the Securities and Exchange Commission (SEC) in the United States to other types of insider trading that also common. This will include a high level analysis of the elements of insider trading. Mr Ortiz will introduce listeners to recent enforcement actions as well as recent court of appeals, district court's decision to overturn convictions, and the supreme court's decision to hear specific insider trading cases.
One can expect to come away from Wednesday's webinar with such key takeaways how CCO's should handle insider trading going forward, how a solid compliance program can help mitigate risks, perhaps most importantly to today's compliance officer, how to identify red flags, and more.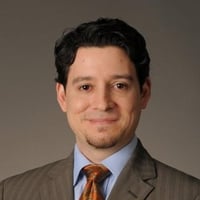 About our Guest Expert and Presenter, Brandon Ortiz
Mr. Ortiz joined Blue River Partners in May of 2015 as a Managing Director. His responsibilities include providing fund launch services, implementing and administering compliance programs and managing single project engagements for alternative asset managers.
Prior to joining Blue River Partners, Mr. Ortiz acted as Associate General Counsel and Senior Compliance Manager for Achievement Asset Management, LLC (f/k/a PEAK6 Advisors LLC), a multi-billion dollar investment advisory firm from January 2013 to February 2015. While at Achievement, Mr. Ortiz advised management with respect to hedge fund launches and the ongoing management of the firm's hedge funds, mutual fund sub-advisory business and compliance program. Additionally, he was responsible for updating fund operating and offering documents, negotiating side letters, reviewing marketing materials and conducting the annual review of the compliance program, among other related activities.
Prior to joining Achievement, Mr. Ortiz was an associate in the Investment Products and Derivatives group at Sidley Austin LLP from October 2008 to December 2012. While at Sidley, Mr. Ortiz Represented multi-billion dollar investment adviser clients managing domestic and offshore fund of hedge funds, direct trading hedge funds, commodity pools and managed accounts.
Mr. Ortiz graduated with honors from Thurgood Marshall School of Law in 2008 where he was in the top 5% of his graduating class.
About our Co-Hosts, Blue River Partners LLC
Blue River Partners, LLC provides a variety of outsourced solutions to Hedge Funds, Private Equity Firms, Registered and Exempt Investment Advisers (IAs), Registered Investment Companies (RICs), Commodity Pool Operators (CPOs), Fund of Funds, Family Offices, and others across the entire spectrum of structures, strategies, and asset classes.
Headquartered in Dallas, with satellite offices in Houston, New York, Chicago, and San Francisco; Blue River is predominantly comprised of experienced Attorneys and CPAs at the management level who have joined us from their prior roles as CCOs, CFOs, COOs, and General Counsel at numerous large and complex alternative and traditional investment entities.