The U.S. Securities and Exchange Commission (SEC) recently released it's report of enforcement actions for their fiscal year 2021 ending on September 30. 697 companies were hit with violations this year.
New actions were included against emerging threats in the crypto and SPAC spaces, but there was still plenty of enforcement in more traditional areas like insider trading, inadequate disclosure and breaching of fiduciary duty.
What types of misconduct landed individuals and firms on the SEC's radar this year?
Insider Trading remained under scrutiny
A full listing of the actions broken down by category can be found here. The list includes 28 actions involving Insider Trading. The actions range from an analyst at an international investment bank using client MNPI to execute dozens of trades, to a director of reporting giving stock tips to a neighbor in advance of a merger, to a CEO charged with insider trading along with misleading an auditor and accounting violations.
Other cases included the selling of insider trading tips on the dark web and a Global IT manager who used MNPI to generate gains and avoid losses totaling over $8 million by trading in the securities of his former employer.
MNPI and Insider Trading will continue to remain a high risk area for compliance in 2022 and beyond for firms of all types and sizes. To avoid enforcement, firms need robust policies and procedures around the management of MNPI and insider lists to minimize risk.
Continued focus on individual accountability
The SEC's Division of Enforcement's 2020 Annual Report clearly called out the agency's intent to hold individuals responsible for their misconduct, stating that the agency has "long recognized that individual accountability is critical to an effective enforcement program. Institutions act through their employees, and holding culpable individuals responsible for wrongdoing is essential to achieving goals of deterrence and investor protection."
Seventy percent of 2021's new or stand-alone actions involved at least one individual defendant or respondent. Enforcement included actions against senior corporate executives of a global bank for misleading investors and against senior executives at a Flexible Spending Account services provider for accounting violations. In addition, several executives across a range of industries were barred from ever serving as public company officers or directors again.
Watch the on-demand webinar Minimizing the Risk of CCO Liability to hear Scott Noah, Of Counsel at Stevens & Lee, provide practical guidance on how the right supervisory structure can reduce the risk of CCO exposure.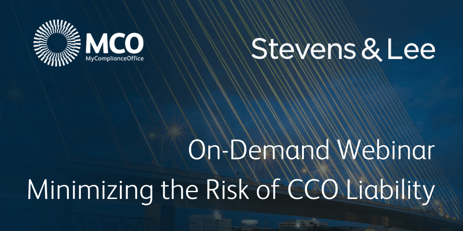 Crypto in the spotlight
2021 saw first of their kind enforcements in the Crypto space. Enforcements including charging a Decentralized Finance (DeFi) lender and executives for raising $30 million through fraudulent offerings, and charging a Crypto provider and executives for conducting a $1.3 billion unregistered securities offering. In related remarks, SEC Chair Gary Gensler warned in August, "Make no mistake: If a lending platform is offering securities, it falls into SEC jurisdiction."
Wondering about the impact of Crypto Regulation on Financial Services Compliance? Watch the On-Demand webinar Diving Into Crypto Regulation with Todd Ehret from Thomson Reuters.
SPACs are an area of concern
Another ground-breaking enforcement involved an action against a special purpose acquisition company, its merger target, top executives, and others for alleged misconduct in a SPAC transaction. The order found misleading statements in public filings associated with the proposed merger and failed due diligence obligations. Read more about SPACs, IPOs and Conduct Risk.
Enforcements also involved breach of fiduciary duty and failure to follow policies and procedures.
There were 120 actions that involved delinquent SEC filings. 110 actions were brought against Broker Dealers and 159 were brought against Investment Advisers/Investment Companies. 150 enforcements involved securities offerings, and 70 were around reporting, audit and accounting issues. Also of note, 2021 was a banner year for the SEC's whistleblower campaign.
According to Gurbir S. Grewal, Director of the SEC's Division of Enforcement, "this year has seen a number of critically important and first-of-their-kind enforcement actions, as well as record-breaking achievements for our whistleblower program, which we expect will lead to even more successful actions in the future."
Don't end up on the SEC's 2022 enforcement list! Contact us here to learn more about MCO's conduct risk solutions.