The SEC's Office of Information and Regulatory Affairs recently released the Spring 2022 Unified Agenda of Regulatory and Deregulatory Actions. The report provides an update on the short and long-term regulatory actions that the agency plans to take.
In the press release, SEC Chair Gary Gensler noted "When I think about the SEC's agenda, I'm driven by two public policy goals: continuing to drive efficiency in our capital markets and modernizing our rules for today's economy and technologies. Doing so will help us to achieve our three-part mission: protecting investors, maintaining fair, orderly, and efficient markets, and facilitating capital formation."
The short term agenda includes 27 items at the proposed rule stage and 26 at the final rule stage. A few proposed rules to highlight include:
S

pecial Purpose Acquisition Companies
In March of 2022 the SEC proposed a new rule to enhance disclosure and investor protection in initial public offerings by special purpose acquisition companies (SPACs) and in business combination transactions. New requirements would include disclosures regarding potential conflicts of interest, business combinations around the sponsor of the SPAC, dilution of shareholder interests and disclosure of outside reports or appraisals.
According to Gensler, if the proposed rule is adopted, "it would strengthen disclosure, marketing standards, and gatekeeper and issuer obligations by market participants in SPACs, helping ensure that investors in these vehicles get protections similar to those when investing in traditional initial public offerings (IPOs)."
Read more about SPACs, IPOs and Conduct Risk.
Third Party Service Providers
The Division is considering recommending that the Commission propose rules related to the role of certain third-party service providers and the implications for the asset management industry. The agency is currently seeking comments on certain information providers including index providers, model portfolio providers, and pricing services, whose activities, in whole or in part, may cause them to meet the definition of "investment adviser".
According to the release, the role of these information providers in today's markets raises important questions under the securities laws as to if they are providing investment advice rather than merely information.
See how MCO provides firms with a clearer picture of the ongoing risks faced from third parties and service providers.
Rule 10b5-1 and Insider Trading
In December of 2021 the SEC proposed a rule to enhance disclosure requirements and investor protections against insider trading. The proposed amendments regarding Rule 10b5-1 and Insider Trading plans and related disclosures would make the requirements to access the affirmative defense to insider trading more stringent and would improve transparency regarding insider transactions in company securities.
Rule 10b5-1(c) offers an affirmative defense to insider trading for parties that frequently have access to material nonpublic information, including corporate officers, directors and issuers. The proposal addresses gaps in the existing rule and helps to address concerns about potentially abusive practices associated with the use of that defense.
Read more about how Proposed Rule 10b5-1 Changes Signal Increased MNPI Scrutiny
Climate Change Disclosure
The SEC continues to advocate for more disclosures around the environmental impact of the firms the agency regulates. A rule proposed in March of 2022 would enhance and standardize climate related disclosures and require firms to provide certain climate-related information in their registration statements and annual reports. Required information would include climate-related risks that are likely to have a material impact, certain climate-related financial metrics, disclosure of a registrant's greenhouse gas emissions and the impact of climate-related events.
In the press release Gensler notes that climate risks can pose significant financial risks to companies, and investors need reliable information about climate risks to make informed investment decisions. The proposal seeks to help issuers more efficiently and effectively disclose these risks.
Learn how MCO's ESG Compliance Manager provides firms with a platform that streamlines and automates the management and evaluation of Environmental, Social and Governance data to highlight risks and identify the appropriate disclosures for stakeholders and investors.
Cybersecurity Risk Governance
In March of 2022 the SEC proposed rules on cybersecurity risk and disclosure. The proposal would enhance and standardize disclosures regarding cybersecurity risk management, strategy, governance, and incident reporting by public companies.
The proposal's amendments include required reporting around material cybersecurity incidents, reporting to provide updates about previously reported incidents, reporting about policies and procedures around cybersecurity risks, disclosure of the registrant's board of directors' oversight of cybersecurity risk and management's activities around assessing and managing cybersecurity risk and implementing relted policies and procedures.
The release notes that the proposed rules are intended to better inform investors about a registrant's risk management, strategy, and governance and to provide timely notification to investors of material cybersecurity incidents.
Download the brochure to learn how MCO's Know Your Risk solution provides firms with a holistic and aggregate view of their risk profile that helps compliance teams set regulatory priorities, link regulatory obligations to related policies and procedure, identify gaps in policies and procedures and streamline operations.
What does this mean for Compliance? Join MCO and thought leaders from the financial services industry for two webinars that will keep you up-to-date on the latest.

Register here to join Hope Newsome, Managing Partner at Virtus LLP to cover where the SEC and FINRA have been focusing their attention around enforcement and examinations plus break down key risks and trends across both agencies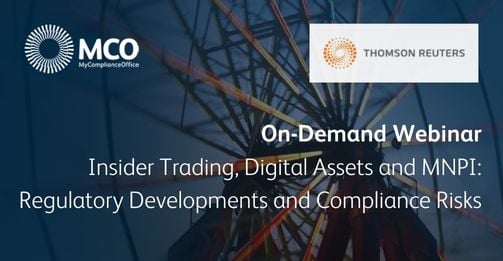 Register here to join Thomson Reuters Senior Regulatory Intelligence Expert Todd Ehret for a deep dive into recent deficiencies cited by the SEC plus new twists around MNPI, alternative data and digital assets.
And if you'd like to see firsthand how MCO helps firms manage and mitigate conflicts of interest and conduct risk, set up a demo today.