With the recent spree of SEC enforcement around the management and preservation of eComms—to the tune of more than $1.5 billion dollars—now is the time for firms to be thinking about best practices for managing digital communications.
The need for eComms compliance is not a new issue. The OCIE Risk Alert Observations Investment Adviser Examinations Relating to Electronic Messaging dating all the way back to December 2018 reminds firms of their regulatory obligations around employee communications. According to the document's key takeaway, the OCIE "encourages advisers to review their risks, practices, policies, and procedures regarding electronic messaging and to consider any improvements to their compliance programs that would help them comply with applicable regulatory requirements."
And based on the levels of recent enforcement, it's safe to say that regulators are not satisfied with industry progress against that goal to date. Is your firm ready to demonstrate compliance?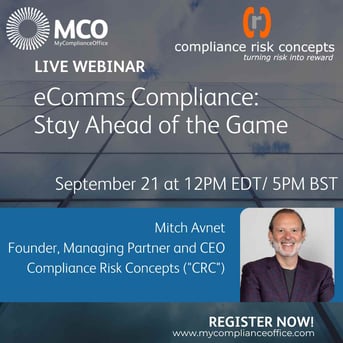 Join MCO and Mitch Avnet from Compliance Risk Concepts for an interactive session featuring practical guidance on the ins and out of managing eComms compliance in today's challenging regulatory environment. We'll cover:
A dive into real-life use cases
Tips on supervising off-channel communications
How to reduce false positives
Getting in front of emerging technologies
Bring your questions, because we'll be answering as many as we can during the presentation!
Related Resources