Compliance attestations provide confirmation that employees have received current information and training on the compliance policies and procedures that apply to them, they have read and understood them, and they are conforming to the required standards in their work.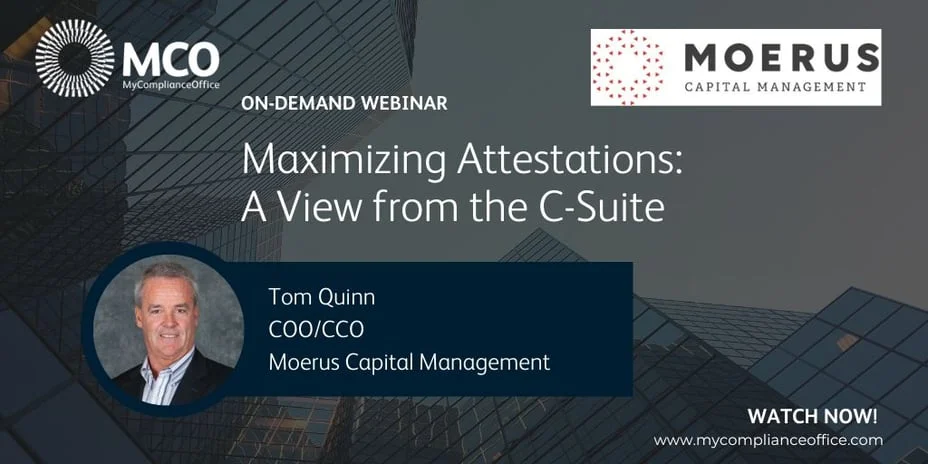 Effective attestations provide proof to regulators and senior management that employees have been made aware of the firm's compliance policies and procedures and they fully understand what is required of them.
In his article Designing a better Compliance Program - Employee Attestations, Tom Quinn, COO/CCO of Moerus Capital, writes "Quarterly employee attestations are an essential component of most regulatory compliance programs. Attestations provide the CCO and their regulator with clear documentation. Well-designed attestations will also provide CCO's with insight into how the overall program is being understood and provide employees with periodic reminders of their obligations and responsibilities."
Learn more about employee certifications and attestations
Using spreadsheets to track attestations seems like an easy solution, but it's most often a solution that leads to wasted time, missed deadlines and administrative errors. According to Tom, automation is a must for firms once they grow past a few employees.
How can firms ensure they are effectively and efficiently using attestations in their compliance program?
Join MCO and Tom Quinn for the on-demand webinar Maximizing Attestations: A View from the C-Suite.
Tom shares his first-hand experience designing and creating more useful employee attestations, including:
Designing a better attestation

Using alerts and reporting to uncover exceptions

Leveraging technology and automation to make the process seamless across the organization

Making attestations work for all stakeholders including employees, compliance and senior management.
MCO's Know Your Employee compliance suite is an integrated solution that manages attestations and certifications, personal trades, outside business activities, gifts & hospitality, access to MNPI and other areas of employee compliance. Watch a quick video to see how we help firms of all sizes effectively manage conduct risk compliance.