SEC Rule 206(4)-7 requires registered advisers to review policies and procedures at least annually to ensure that they are both adequate and effectively implemented. Year-end is the optimal time for firms to conduct internal assessments of their compliance program to be ready for the annual review and to set the stage for a successful 2024.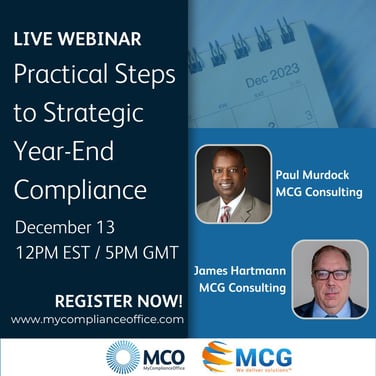 "Rule 206(4)-7 requires each registered adviser to review its policies and procedures annually to determine their adequacy and the effectiveness of their implementation. The review should consider any compliance matters that arose during the previous year, any changes in the business activities of the adviser or its affiliates, and any changes in the Advisers Act or applicable regulations that might suggest a need to revise the policies or procedures."
SEC Final Rule, Compliance Programs of Investment Companies and Investment Advisers
The SEC also requires that firms conduct regular and effective risk assessments. The agency defines an effective risk assessment as evaluating how activities, arrangements, affiliations, client base, service providers, conflicts of interest, and other business factors may cause violations of the Advisers Act or give the appearance of impropriety.
With year-end upon us, now is the ideal time for firms to evaluate 2023 compliance activities, conduct risk assessments and prepare for the annual exam to identify concerns and make necessary adjustments to the firm's compliance program for the year ahead.
Wondering where to start?
Join MCO and Paul Murdock and James Hartmann from MCG Consulting for the webinar Practical Steps to Strategic Year-End Compliance on Wednesday, December 13 at 12PM EST / 5PM GMT.
Paul and James will offer insight on the key areas where compliance professionals should be focusing their time and attention to close the year out strong and position themselves for success, including:
The importance of risk assessments
Managing vendor due diligence
Optimizing compliance technology
Preparing for the annual compliance review
More Year-End Resources