We are relentlessly curious about how organizations deal with their Gifts and Entertainment rules and policy globally. Thinking about that and not finding enough insights, we ran a survey to understand everything we could about Gifts and Entertainment Policy and Compliance trends.
The findings and our in-depth analysis can be found here in our report, but we suffice to say that organizations have different approaches to handling rules on gifts and entertainment. In addition, compliance officers are defining a strict but flexible code of conduct especially in global corporations that need to deal with different rules, regulators, and authorities.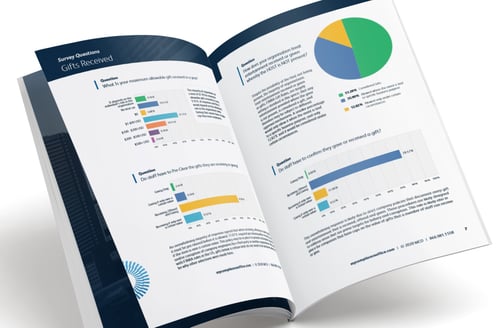 Our Survey
The survey results allow compliance officers of different organizations and businesses to compare their compliance programs and rules to improve and make their code of conduct more effective. We all know with an effective code of conduct organizations can mitigate the risks and avoid possible conflicts of interest.
We surveyed senior compliance staff of global large firms, such as Banks, Investments Management and Investment Advisor/Stockbroker among others. Our respondents were mainly from the USA, UK & Asia.
Gifts and Entertainment Rules
Employees should be aware that the acceptance of gifts and entertainment could compromise their duty to act in the client's best interest. Expensive or inappropriate gifts can cause concerns and may influence the decision making of staff.
According to the regulators, firms should have a robust control and recording measures for gifts received and given as it can be seeing as a conflict of interest and may cause warm to the company reputation if not well managed.
Organizations should be fully aware of their exposure to the risks if they don't constantly review and close manage their rules and policy. This falls under the chief compliance officer's responsibility, they need to pay more attention to identify conflicts and investigate possible violations of the conflict of interest policy.
Limits and Best Practices
Any organization should have limits on what is reasonable for gifts and entertainment and have a clear approval process. It will show regulators that the company has a proactive approach to gifts, entertainment, and hospitality monitoring. Some practices are necessary in order to keep control; however, organizations may apply different rules depending on the situation.
Every employee in the organization should be fully aware of the rules on the gifts and entertainment policy and these rules should apply to all.
Compliance departments should create reminders to employees regarding the gifts policy requirements, especially at relevant times such as Christmas.
Limits of gifts received and given are important and everything above the limits set should require an approval process.
If you want to know more about Gifts and Entertainment Compliance download our survey report today.