The Australian Financial Adviser Standards and Ethics Authority (FASEA) is responsible for overseeing the professional standards for the financial advice sector. As part of multiple changes set forth in the Corporations Act 2001 (regulated by ASIC) for the industry, a portion is in relation to the education that financial advisors must have to participate in the industry.
Existing advisers have been informed they must pass the FASEA exam before 1 January 2022, and until 1 January 2024 to obtain an approved qualification. Beginning from 1 January 2019 any new entrants to the industry were/are required to pass the FASEA exam after completing their approved degree.
In an interview Stephen Glenfield, FASEA Chief Executive Officer provided details on what the exam is looking for and mention that the pass rate of the first exam was a positive surprise as 88% of candidates passed the exam.
"The exam tests three things that you'd expect all advisers to have; it's their practical application of the law, the understanding of ethics in their business, and understanding of the client. You would expect all competent advisers to know those things. To have such a good pass rate on the first one probably reflects that knowledge".
In more detail, the exam tests three domains of knowledge and skill:
financial advice regulatory and legal obligations
applied ethical and professional reasoning and communication
financial advice construction
FASEA has released the chart below with further information for new and existing adviser: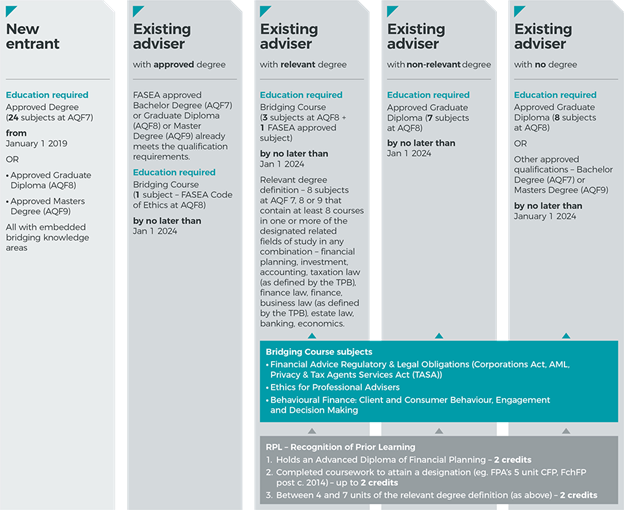 Degrees and Qualifications – Education Standard
The Financial Adviser Standards and Ethics Authority highlights that new entrants and existing advisers as mentioned above need to complete a bachelor or higher or equivalent qualification. FASEA created a defined curriculum and standards for these degrees to follow in order to be listed. They recommend advisors to look at the list of approved higher education providers and their FASEA approved qualifications.
"The FASEA changes will increase not only compliance and financial advice standards in Australia, but ensure a benchmark for ongoing training and education in the provision of financial advice to the public at large." Niall Coburn, Senior Regulatory Intelligence Expert, Thomson Reuters Regulatory Intelligence.
Supplementing the core examination requirement, financial advisers must also complete continuing professional education (CPD) which also commenced 1 January 2019. Financial advisers (new & existing) must complete 40 hours of continuing professional education per year of which 70% must be approved by their licensee including a maximum 4 hours of professional reading.
This includes a minimum training of:
Technical – 5 hours
Client Care and Practice – 5 hours
Regulatory compliance & Consumer Protection – 5 hours and
Professionalism and Ethics – 9 hours
The remaining minimum of 16 hours must also be qualifying CPD credits.
From the 15th November 2019, AFS Licensees also have an ongoing obligation to keep information up to date about their registered advisers in the Financial Advisers Register maintained by ASIC. As such licensees of Financial Advisors should keep adequate books & records on their Financial Advisors to understand if they have completed their examination, recognition of past training, and that adequate yearly CPD credits have been completed. As a licensee, you must ensure you are satisfied with your individual practitioner's knowledge and skills.
FASEA is optimistic about these changes and highlights benefits for the industry.
"If someone goes to see an adviser after the transition period they will know the adviser has met a minimum level of education, been subject to a professional year under good guidance, sat an exam that proves they can practically apply what they know, they're continuing to maintain their knowledge base through CPD requirements, and they're operating under a legislative code of ethics which helps guide their behaviour towards the best interests of the client," says Glenfield in an interview to Professional Planner Magazine in September 2019.
Updates on the exams for 2020.
FASEA offered the exam in September and December 2019 and bi-monthly in 2020 across metropolitan and regional centres.
The February exam will take place in 17 centres across Australia: Sydney, Canberra, Melbourne, Brisbane, Townsville, Adelaide, Perth, Hobart, Gold Coast, Wollongong, Cairns, Ballarat, Launceston, Port Macquarie, Traralgon, Tamworth, Townsville and Newcastle. The registrations for this exam are now open, closing 24 January 2020. The sitting dates are from 13 to 18 February 2020. The FASEA released a note saying that over 1,700 advisers have already registered for this exam.
For the April exam, 140 advisers have registered, and registration closes 13 March 2020. This exam will take place in 18 centres from 2 to 7 of April 2020.
Registration for the June exam closes 22 May 2020. This exam will take place in 18 locations from the 11 to 16 of June. For more information on the exams, please visit the FASEA website.
MCO's Conflict of Interest software allows licensees to manage their advisor's education records within their Authorizations, Registrations & Licenses module. This module also tracks CPD hours that have been completed. In Australia you must update the Financial Advisers register when:
You authorize a new financial adviser
A financial adviser no longer works under their license
A financial adviser's details change (name, principal place of business, qualifications or financial products they can advise on)
This MCO module can assist your compliance and learning and development managers in maintaining these records including alerting your financial advisors or compliance team when there may be issues with their qualifications, manage incoming and outgoing representatives and send attestations to advisors on a regular basis.
To find out more about the MCO solution you can visit their resources page here.
This module complements the existing employee compliance suite which allows licenses to automate the tracking of Personal Account Dealing, Gifts & Entertainment and other Conflicts of Interest declarations required of employees.