The modern workplace has undergone a significant evolution in recent years. The pandemic has changed employee priorities and organisations' attitudes towards remote and hybrid work environments. These changes have also brought a greater acceptance of workplace flexibility - from both employer and employee perspectives. However, there are also new challenges.
Regulatory compliance and risk management must now mature to accommodate hybrid and remote workplaces. The need to ensure compliance (and the technology to manage it) is more vital than ever, as the financial sector continues to experience impressive growth.
As reported by the Monetary Authority of Singapore (MAS), The financial sector performed strongly throughout the COVID-19 pandemic. The sector grew by an annual average of 7.2% during 2020-21, four times faster than the overall economy.
Singapore has also made a name for itself as a highly-conducive environment for financial innovation. The country is home to more than 1,400 FinTech firms and saw a FinTech investment of US$3.9 billion in 2021 - a staggering increase from USS$2.5 billion in 2020.
And while 2020 and 2021 saw 5,800 net jobs created in financial services in Singapore, MAS estimates more than 9,400 new hiring opportunities for permanent roles will exist in the financial sector in 2022. The FinTech market will continue to be highly active in 2022, with greater opportunities for financial and regulatory compliance staff in new and changing roles.
Business Priorities and Talent Opportunities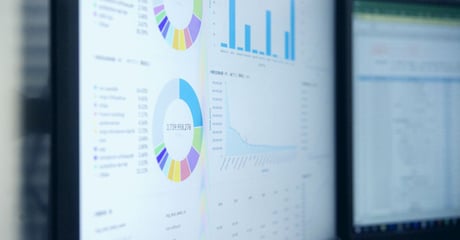 Banks and FinTechs have focused heavily on automation, data analytics, and technology solutions to drive efficiency and growth. With business leaders driving forward rapid digital transformation, talent with skillsets and previous experience in tech-related disciplines are becoming highly sought-after. It is now the ideal time for compliance professionals to upskill themselves with data analytics, programming and automation, and RPA (robotic process automation) skills.
Critical communication skills are in high demand - and even more so in a rapidly evolving landscape. New and ongoing projects require staff with excellent soft skills such as problem-solving, a sense of urgency, and effective communication. Additionally, the ability to connect emotionally with stakeholders across all levels of a business is an all-time top criterion for all senior hires.
Attracting and Retaining Top Legal and Compliance Talent
COVID-19 changed many fundamental aspects of our lives. Our personal priorities, how we live, and how we choose to work have undergone a seismic shift in recent years.
To ensure alignment with shifting employee priorities, it is crucial to review and refresh your organisation's EVP (employee value proposition). By having an EVP that connects with top talent's values and ideals, your organisation can stand out amongst the competition to attract and retain the best people.
It is also essential to reset preconceived notions about what employees want. Strategic management consulting firm, Boston Consulting Group (BCG), does this through a mix of annual and dedicated employee surveys before company policy changes to understand if the changes are in-line with employee wants and needs. There have been surprising and informative responses to these surveys that have created new opportunities. As a result, the legal team at BCG has seen cross-team secondments introduced. This approach has enabled team members to gain new knowledge and experiences working across teams and disciplines while retaining those people within the organisation.
Staff shortages brought on by continued COVID-related disruption mean that organisations have had to adapt again. Agile talent deployment and shifting resources internally to complete projects are becoming far more commonplace. So there is the desire for employees to work across more areas of an organisation, and many companies want to make that happen.
Additionally, (particularly with junior and mid-level employees), there is an excellent opportunity to find and extend mentorship within the organisation. By building a stronger affiliation with people across different parts of the company and developing key relationships, team members can flourish within an organisation.
Improving Processes with Customer-Centric Tools

Organisations have different systems and processes - some online, some still paper-based. When rolling out new processes, looking at the end-to-end implementation from a customer's perspective is essential. Sometimes, your customers may be your internal stakeholders, teams, and employees. As there are the people affected by the new process, it's crucial to ensure that intuitive, customer-centric processes are implemented to create the best chance of success.

When implementing new technologies to manage and improve processes, tools that take a customer-centric, user-first approach can boost adoption, ensure the correct processes are followed, and ensure regulatory compliance.
"As a financial services firm, we have complex regulatory obligations. We needed a system that could handle our vast amount of regulatory requirements. We also wanted a system that could link outside business activities and integrate everything together seamlessly. MCO was straightforward to implement. It also brought an incredibly friendly user experience, making adoption by all our business users so much easier."

- MCO Customer
The 'Risk Management' Mindset
Compliance and legal officers now have greater expectations placed on them to regulate the organisations employing them. One of the most significant challenges in this respect is supporting your organisation's growth while ensuring regulations are not compromised. In turn, this can lead to adopting more of a 'risk management' mindset.

What is critical within that compliance risk management approach is the ability to think outside the boundaries of your organisation and look at the situation from the regulator's perspective. For example, what is the regulator trying to achieve through the regulations? If you are to follow one course of action over another, do you have a strong argument for how it achieves a better outcome in complying with regulations?

Rather than taking a 'tick-box compliance' approach where rules are followed for the sake of following processes, compliance officers are now tasked with looking at situations from a regulator's perspective while also being a risk manager for the organisation.


Visibility in Evolving Workplace Environments
Working from home has become a necessity for business continuity throughout the pandemic and has become a fact of life - whether hybrid or mainly remote working arrangements. This shift in how employees work has also affected visibility and oversight from a regulatory compliance perspective. With distributed workforces, it's more vital than ever to ensure policies are upheld and that regulatory obligations are met. The ability to quickly and efficiently identify and stop workplace compliance breaches is even more critical.
The challenges brought on by more distributed workplaces highlight the need for RegTech solutions. Technology is now key to empowering organisations with greater visibility of employee activity - regardless of where teams are located.
"The cumulative nature of MCO's reporting and visibility is also incredibly helpful. We can see a profile of employees that includes all conduct, case, and gift-related data over time. Seeing this all on the one employee dashboard gives us a birdseye view of overall activity."

- MCO Customer
Driving Culture to Uphold Compliance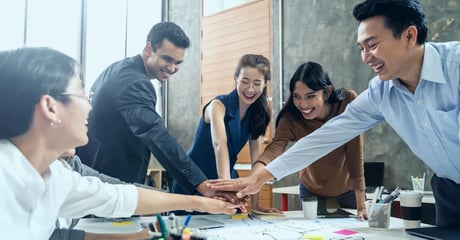 With the shift towards remote and hybrid working environments, new challenges have arisen regarding keeping employees aware and informed about policies and procedures. A strong connection with your organisation's culture is key to upholding regulatory compliance, particularly with new hires.
By enacting an inclusive company culture, you can help employees feel they are an integral part of the business and therefore want to see things done the right way. While regular video calls, team meetings, and virtual company-wide 'town hall' meetings are excellent uses of technology to keep people connected, there remains a vital place for in-person interaction.
Some organisations now have 'anchor days', which are pre-defined days where all employees are expected to be in the office. These types of initiatives facilitate face-to-face interaction and can nurture a greater alignment with culture.
RegTech Solutions that Reduce Compliance Risk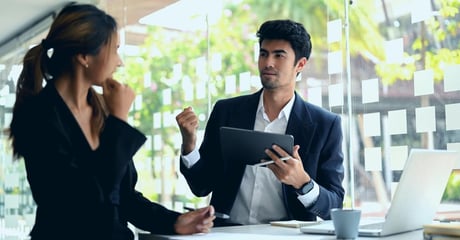 As the modern workplace continues to evolve, so do the tools and methods to ensure workplace compliance and risk management. RegTech (regulatory technology) is designed to help organisations reduce compliance risk and uphold regulatory obligations.
MCO's Know Your Employee (KYE) module engages employees with a simple, intuitive interface to fulfil their compliance obligations more efficiently. In addition, KYE enables firms to manage code of conduct activities and mitigate misconduct risk across multiple business areas within one fully integrated SaaS solution.
Crucially, RegTech solutions help financial services firms deal with a rapid pace of change by streamlining the management of global regulatory compliance developments and updates. MCO's The Know Your Risk (KYR) module enables firms to set regulatory priorities, identify policy and procedure gaps, and deliver proof of adherence with metrics and documentation. The Regulatory Change Manager (RCM) adds a regulation news and horizon scanning tool that makes it incredibly efficient to understand what regulators are communicating and how that might apply to specific business operations.
With additional automation of a broad range of conduct risk issues, financial services firms using solutions like MCO are spending less time and resources on driving compliant workplaces and more time capitalising on the enormous growth opportunities in Singapore and across Asia.
---
Enacting regulatory compliance (in its many forms) is vital for enterprise risk management.
Download your detailed 15-page eBook with the insights about:
Understanding the many forms of compliance risk
Driving more than "tick-box compliance"
Dealing with cross-border compliance complexities
Empowering company-wide compliance through RegTech solutions
Alternatively, request your no-obligation demonstration of MCO.
Discover how we can help you automate your compliance management, stay ahead of evolving regulations, and gain complete confidence in your risk reduction strategy.