For capital markets firms, managing risk and compliance is as essential as managing investments and operations. And reactively managing risk isn't enough. Firms need to take a proactive approach that requires both updated processes and technology plus access to data.
The explicit and implicit costs of failing to build a solid compliance program can be dire. According to Coalition Greenwich, unethical behavior can put $225 billion in fees at risk for investment managers. Recent focus on environmental, social and governance (ESG) metrics has only accelerated efforts to ensure financial firms operate not only profitably, but also in a manner that conveys commitment to remaining compliant both in practice and spirit.
MCO is pleased to sponsor the on-demand webinar Conduct, Compliance and Ethics in Capital Markets in conjunction with Coalition Greenwich. During this interactive discussion MCO CEO Brian Fahey joins speakers from FINRA, Northern Trust Corporation, and Coalition Greenwich to discuss:
The biggest challenges to implementing a predictive surveillance program
The impact of ESG on measuring integrity and firm compliance
Drivers for upgrading compliance and surveillance infrastructure to help understand the ROI
Speakers:
Brian Fahey, CEO, MyComplianceOffice
Kevin McPartland, Head of Research, Market Structure & Technology, Coalition Greenwich
Stacey Bolton, SVP & Chief Risk Officer, Northern Trust Corporation
Steven Polansky, Senior Director Member Supervision, FINRA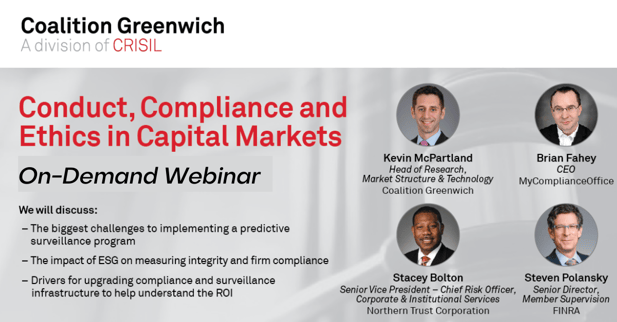 To learn more about how financial services firms are working to encourage an ethical culture, the reasons why it matters, the challenges faced in implementing processes to encourage that cultural shift, and steps being taken to improve legacy approaches, read the white paper Conduct and Compliance: A Collective Approach to Ethics and Accountability, written by Coalition Greenwich in conjunction with MCO.