The 2020 U.S. Presidential election saw unprecedented levels of political donations on both sides of the aisle. And recent comments from Gary Gensler indicate that the disclosure of corporate political contributions and donations will continue to remain a priority for the SEC.
Pay-to-play compliance is a concern for firms of all sizes, and not just in election years. Restrictions on gifts and entertainment and potential lobbyist registration requirements also remain areas of concern. Firms need to have policies and procedures in place to identify potential conflicts of interest—and avoid the fines and reputational damage that those conflicts can bring.
To learn more, watch the on-demand webinar Pay-to-Play Compliance: The 2020 Election and Beyond.
Sonia R. Gioseffi from K&L Gates provides an overview an overview of what you need to know to understand and manage pay-to-play compliance and other compliance concerns with respect to public pension plans, including:
A summary of SEC Rule 206(4)-5 and other pay-to-play rules
SEC enforcement implications
Issues related to gifts and entertainment
Potential lobbyist registration requirements
Strategies for addressing these risk areas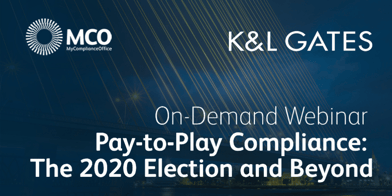 Is your firm aware of the impact of political contributions your employees are making? And are your employees aware of the rules they are beholden to?
Pay-to-play compliance is a concern for firms of all sizes. With donor data tracked at the federal, state and local level, and state and local rules differing across jurisdictions, tracking pay-to-play compliance is a challenge. Running periodic spot checks or relying on employees to self-report donations is both time-consuming and risky.
Firms need policies and procedures in place to monitor employee contributions to identify potential conflicts of interest. Compliance teams need access to comprehensive political donation data, solid tracking systems in place to satisfy regulatory requirements and must be able to easily identify prohibited contributions.
MCO's Political Contributions and Donations solution provides firms of all sizes with access to updated donation data across federal, state, and local jurisdiction, providing the ability to verify employee contributions against an outside source. Compliance teams can easily and efficiently configure customized rules and run reporting to manage and monitor political contributions. MCO's Political Contributions and Donations solution helps firms stay compliant with regulations including SEC Rule 206 (4)-5, FINRA Rules 2030 & 4580, MSRB Rule G-37 and CFTC Regulation 23.451.
The giving and receiving of gifts and entertainment also has the possibility to be perceived as a conflict of interest. It's important that organizations review their practices and implement a code of conduct in order to improve training, compliance monitoring, attestation and reporting, and more closely manage risk.
MCO's Gifts, Entertainment and Hospitality solution monitors and manages employee gifts, meals, entertainment, travel and hospitality activities. Compliance teams can easily document and address real and potential conflicts of interest with a comprehensive solution that automates the submission and approval process for gifts and entertainment, allowing firms to reduce compliance risk.
Download our report for a deeper look at gifts and entertainment trends in global organizations.
Pay-to-Play Compliance Webinar
"What are the consequences of registration? To me they're really minor consequences. You know, it's usually a nominal fee. Sometimes people have to take an ethics course. The big one would be prohibition on contingent compensation if that matters. But the real issue generally on this is that it can be a compliance nightmare, which is, you know, keeping track of all the registrations. And then often there's some type of filing requirements. So monthly, quarterly, you may have to annually renew. So it's something to keep track of, which if you have to keep track of a lot of things, it's, it can get overwhelming at times. And as a result on the next slide, I get a lot of questions from clients, which is, you know, what happens if I don't register?
What are the consequences here? So I always advise to follow the law. Even though it is annoying because there are, you know, civil or criminal penalties that may be assessed if it's taken all the way to the end, it may require disclosure on the form ADV, it could be deemed a disqualifying event and therefore you couldn't rely on Rule 506 under Reg D you know, potentially a contractual violation be represent that you're compliant with all laws. You could be banned from working with a particular plan. And then our old friend here, you know, headline risks too, is just looks bad. And so the next slide, are practical considerations. So here you want to make sure that you understand the requirements for your prospects and, you know, in the state of California, you do have to register prior to contact.
So you would want to know this and make sure you register in advance of a meeting with any state entity. And then, you know, what are the requirements and the exceptions are these laws. Cause, you know, as I had gone over sometimes it's hour based, or it could be expense based. So you would want to understand the triggers and then, you know, potentially limit who is in contact. So one thing I advise for clients that are large firms is that can you limit the number of people that are interacting with one particular plan or multiple plans, because that's just going to make it easier from a compliance standpoint instead of doing, you know, 50 filings a quarter, you only have to do three filings a quarter. So it's like, how can you make everyone's life easier on this? And still get business done. And then, you know, finally registration may trigger additional gift and play to play restrictions. So in some jurisdictions, lobbyist would not be subject to those exceptions, meaning that all gifts are outright banned or all political contributions are outright banned. So it's important to be mindful of these requirements when you're looking at your other policies."