It's been an eventful year in Financial Services risk and compliance across the globe. From record enforcement levels to market disruptions to evolving regulations around emerging risks like digital assets and crypto, developments have been coming at compliance professionals at a fast and furious pace.
To keep up with the latest regulatory developments and understand the practical impact on compliance, check out MCO's library of 2022 on-demand webinars for expert guidance viewed at your convenience.
Get 2023 off to a good start by signing up for our latest webinar, Beyond the Headlines: Crypto and Digital Asset Compliance with Mitch Avnet from Compliance Risk Concepts on Tuesday, January 24 at 12PM EST.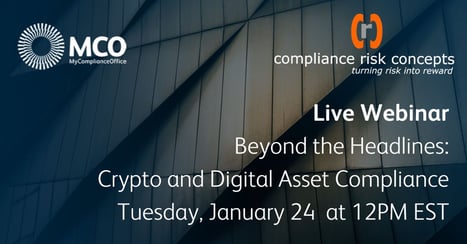 ---
Join Jane Shahmanesh from Adherence LLC for guidance on what compliance should be doing to ensure gifts and entertainment compliance is on point during the holidays and throughout the entire year.
---
MCO's Kelly-Ann McHugh and Kyle Larson and Pranavi Kapur from Kroll provide an overview of the Securities and Exchange Commission (SEC) and its global supervision activities and an update on key priorities for their regulated entities.
---
Join Tom Quinn, COO/CCO of Moerus Capital for insight on how to make your compliance attestations really work for you. Tom shares his first-hand experience designing and creating more useful employee attestations that call attention to the compliance issues that really matter most to your program.
---
Join Sinead Egan from MCO for practical guidance on how to make managing employee Authorizations, Registrations and Licensing a seamless part of your compliance program, making it easier for employees to fulfill their responsibilities and freeing up your team to focus on higher priorities.
---
Join Hope Newsome from Virtus LLP for a rundown of recent SEC and FINRA enforcement actions, insight on examinations, and guidance on the implications for compliance.
---
Join Thomson Reuters Senior Regulatory Intelligence Expert Todd Ehret for a deep dive into the impact of digital assets on insider trading including SEC exam deficiencies, new areas of emphasis related to MNPI and growth in adviser use of alt-data.

---
Join Mitch Avnet, Founder and Managing Partner at Compliance Risk Concepts, and Richard Pike from MCO for a session providing practical guidance on what compliance leaders can be doing to develop holistic oversight of compliance risk across their organization.
---
Join MCO and Elin Cherry from Elinphant for a question and answer session that will help you overcome the compliance challenges of Outside Business Activities and Private Securities Transactions and be better prepared to navigate sticky situations.
---
Jane Shahmanesh from Adherence LLC provides an overview of the importance of electronic recordkeeping in compliance including recent regulatory enforcement and developments and the impact of remote work and the use of non-company devices.
---
Scott Noah, Of Counsel at Stevens & Lee and Chief Compliance Officer of Griffin Financial Group, offers practical guidance on how the right supervisory structure can reduce the risk of CCO liability, including current standards for CCO liability, compliance vs. supervision and the importance of the Empowered CCO.
---
If you have any questions about how MCO can help manage compliance around any or all of these topics, just let us know and we'll set up some time to chat.
We're planning more timely and informative webinars on the latest topics in compliance in 2023. Follow us on LinkedIn and take a moment to subscribe to our newsletter to stay up-to-date and in the loop!