MCO is delighted to present an excerpt from the new book, Third-Party Risk Management: Driving Enterprise Value, published from RMA by author, thought-leader, and the host of MCO's May 2018 Webinar, Linda Tuck Chapman.
Greg Carmichael, president and CEO, Fifth Third Bank cautions that the years of "go-go growth at any cost are well behind us." In his words, "Senior leadership needs to have a mindset of being strong through every cycle—strong in good times, and strong under adverse economic conditions."
Take a long-term view of the opportunities and impact that critical third-party relationships present throughout their life cycle. This can make the difference between whether your company is intentional about why, what, when, who, and how to drive best value for money, protect your reputation, and improve the customer experience—or whether you're simply complying with regulatory guidance and laws.
Krystelle Bilodeau, a senior business line leader at a systemically important financial institution, reminds us that "an organization's reputation is as individual as a thumbprint. A serious event that results in widespread damage to its reputation could be classified as a direct affront to the institution's explicit and implicit values. It is of utmost importance that you have a clear understanding of the potential sources, levels, and impact of risk events" (Tuck Chapman, 2018).
This new book by Linda Tuck Chapman is available for purchase here.
About the Author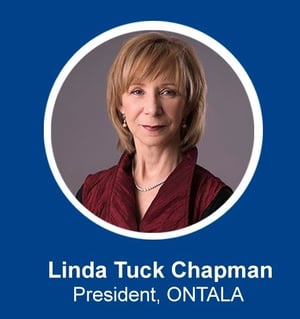 Linda Tuck Chapman is a recognized subject matter expert, trusted advisor, educator, and popular speaker. She is President, Ontala Performance Solutions Ltd., and has served as Chief Procurement Officer for BMO Financial Group, Fifth Third Bank, and Scotiabank Group. She is former CEO, Ontario Education Marketplace, and has held leadership roles in the financial services sector. Linda's thought leadership is strengthened by active engagement in executive networks and professional associations, and is frequently profiled in industry-leading publications such as The RMA Journal, The Wall Street Journal, and Outsource. Linda is passionate about driving enterprise value.
For more insight on third party risk management from Linda Tuck Chapman, review the May Webinar slides on Driving Enterprise Value, download now.
Reference
Tuck Chapman, Linda. (2018). "Final Words." In Third-Party Risk Management: Driving Enterprise Value. 161. Risk Management Association.
If you found this interesting, check out MCO's other resources on Anti-bribery and Corruption.