The U.S. Securities and Exchange Commission recently issued a risk alert warning investment advisers of common deficiencies related to their firms' ethics codes and the handling of material non-public information. According to Thomson Reuters Senior Regulatory Intelligence Expert Todd Ehert, the warning is a strong reminder that proper handling and safeguards of material non-public information (MNPI) is a core compliance responsibility for all advisers that should not be overlooked.
The SEC noted that deficiencies found related to Section 204A of the Investment Advisers Act of 1940 and the "Code of Ethics Rule" have been among the most commonly found during exams. Although some recent exam deficiencies cited by the SEC are familiar to compliance officers, there are new twists around what's defined as MNPI and the use of alternative data.
The SEC noted that deficiencies where firms "did not appear to adopt or implement reasonably designed written policies and procedures to address the potential risk of receipt and use of MNPI through alternative data sources." Ehret notes that the use of alt data, amid increased SEC scrutiny and an ever-changing technology landscape, should be subject to additional caution.
The first ever insider trading case involving NFT's adds to the expansion and application of existing fraud and securities laws to the new universe of digital assets. According to Ehert, the case demonstrates the regulatory and legal expansion into the new digital frontier of digital assets. It also highlights the need for compliance and oversight at all firms, whether they are regulated or unregulated by financial regulatory agencies.
What does this mean for compliance?
Join MCO and Thomson Reuters Senior Regulatory Intelligence Expert Todd Ehret for Theon-demand webinar Insider Trading, Digital Assets and MNPI: Regulatory Developments and Compliance Risks.
The presentation will take a deep dive into the latest on insider trading, including:
Common SEC exam deficiencies
New areas of emphasis related to MNPI
Growth in adviser use of alt-data
Charges of insider trading in NFT's
Takeaways and suggestions for compliance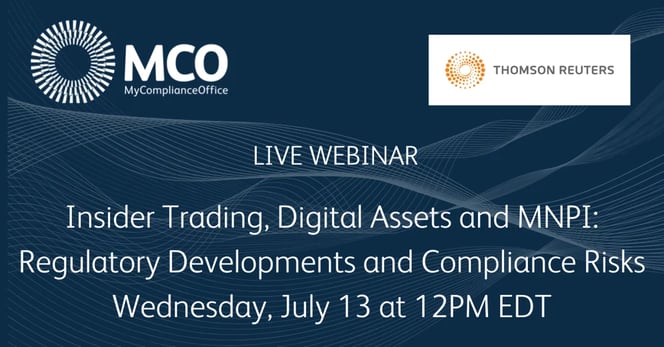 More on MNPI and Insider Trading