As we enter the third quarter of 2022 it's clear that both the U.S. Securities and Exchange Commission (SEC) and the Financial Industry Regulatory Authority (FINRA) are continuing to demonstrate a steady pace of enforcement.
And there's no indication that this steady pace will be slowing down. In fact, in recent remarks, SEC Director of the Division of Enforcement Gurbir S. Grewal noted that he's "been asking staff to look for ways in which to push the pace of investigations since day one."
In just the last few weeks we've seen the SEC hand down costly enforcements to major global players in the financial services industry for infractions including cheating on ethics exams, improper oversight and advice around complex financial products and conflict of interest violations.
Likewise, FINRA also handed down disciplinary actions in June 2022 on issues including securities fraud from insider information, failure to maintain adequate policies and procedures, and failure to exercise proper due diligence.
Understanding where the SEC and FINRA have been focusing their attention around enforcement and examinations so far this year can only help firms be ready for the rest of 2022 and beyond.
Hope provides a regulatory recap of 2022 to date along with the implications for moving forward for the rest of the year and beyond, including:
2022 enforcement actions of note
Risk Alerts and regulatory proposals
Key risks and trends across both agencies
Practical tips and guidance for compliance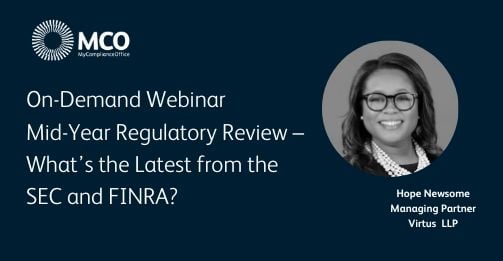 More on SEC and FINRA Enforcement