Temperatures are hot across the Unites States right now – and so is U.S. Securities and Exchange Commission (SEC) enforcement activity. The end of July has seen the SEC file multiple insider trading actions against a former chief information security officer, an investment banker, a former FBI trainee, a former U.S. Congressman and a former crypto employee.
The actions reinforced the agency's focus on insider trading and MNPI, and also raised some questions about the definition of a security and the scope of the agency's oversight of the crypto space.
The SEC has been sending strong signals that insider trading and material non-public information (MNPI) would be priorities in 2022. In April of 2022 the agency released the Risk Alert Investment Adviser MNPI Compliance Issues to share notable deficiencies that the Division of Examinations ("EXAMS") has cited related to MNPI and Code of Ethics Issues. Read more about the Risk Alert and the SEC's focus on MNPI and Code of Ethics Issues.
Learn how MCO helps firms manage the risk of MNPI and insider information
Actions originated from the SEC Enforcement Division's Market Abuse Unit's (MAU) Analysis and Detection Center, which uses data analysis tools to detect suspicious trading patterns. Created in 2011, the Analysis and Detection Center allows regulators to harness the vast array of financial and marketplace data available to detect, uncover and investigate misconduct. The actions included:
A former investment banker who made more than $275,000 by illegally trading with insider information in advance of four acquisition announcements
A former FBI trainee secretly misappropriated MNPI from their romantic partner, who was an attorney working from home on a confidential corporate acquisition, sharing the information with a friend and making more than $1.4 million on illegal trades
The agency also filed charges against a former congressman with a consulting business who violated violating Section 10(b) of the Securities Exchange Act of 1934 and Rule 10b-5 by using information he obtained at a golf tournament for insider trading in advance of a telecom merger, netting over $375,000 in illegal profit.
Read about the SEC's Spring 2022 Regulatory Agenda
Enforcement brings big questions around the scope of crypto regulation
The SEC filed insider trading charges against a former employee of a crypto exchange platform, alleging that the employee repeatedly shared MNPI about the addition of new assets to be offered for trade on the company's exchange platform. The complaint alleges that the use of MNPI for insider trading of crypto assets constitutes securities fraud, holding large implications for the industry
In the release, Gurbir S. Grewal, Director of the SEC's Division of Enforcement notes "We are not concerned with labels, but rather the economic realities of an offering. In this case, those realities affirm that a number of the crypto assets at issue were securities, and, as alleged, the defendants engaged in typical insider trading"
The complaint alleges that a digital token or crypto asset is a crypto asset security if it meets the definition of security, as defined by the Securities Act as an investment contract that "constitutes an investment of money, in a common enterprise, with a reasonable expectation of profit derived from the efforts of others." The action notes that nine of the securities traded can be considered securities under that definition.
Read the white paper Conduct and Compliance: A Collective Approach to Ethics and Accountability
A parallel action filed by the United States Attorney's Office for the Southern District of New York ("SDNY") and described in the release as the "First Ever Cryptocurrency Insider Trading Tipping Scheme Charges" alleged charges of wire fraud and wire fraud conspiracy but not securities fraud.
The crypto company CEO strongly disagrees that the digital assets in question should be considered securities. In a blog post updated after the indictment, he states "No assets listed on our platform are securities, and the SEC charges are an unfortunate distraction from today's appropriate law enforcement action." The blog post also noted that when tipped off about the frontrunning scheme that violated the firm's global asset digital trading policy, the employee was terminated and information was reported to the Department of Justice (DOJ).
The action has also raised concerns that the SEC is overstepping regulatory boundaries by enforcing when regulations and standards are not clearly defined across both regulators and the industry. SEC Chair Gary Gensler has proposed a shared rule book between the SEC and the Commodities Futures Trading Commission (CFTC) for crypto regulation to ensure there are no gaps in oversight, however lines are not yet drawn. In a statement, Commodities Futures Trading Commission (CFTC) Commissioner Caroline Pham describes the case as "regulation by enforcement" and notes that "the SEC's allegations could have broad implications beyond this single case, underscoring how critical and urgent it is that regulators work together."
If you'd like to see firsthand how MCO helps firms manage the risk of MNPI and insider information, set up a demo today.
Watch two on-demand webinars to help you keep up with the SEC latest.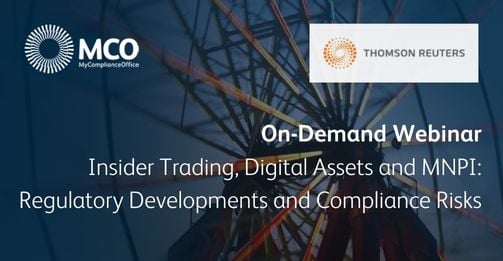 Register here to join Thomson Reuters Senior Regulatory Intelligence Expert Todd Ehret for a deep dive into recent deficiencies cited by the SEC plus new twists around MNPI, alternative data and digital assets.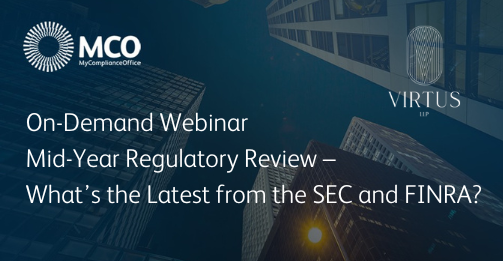 Register here to join Hope Newsome, Managing Partner at Virtus LLP for an overview of where the SEC and FINRA have been focusing their attention around enforcement and examinations plus break down key risks and trends across both agencies.