The Markets in Crypto-Assets (MiCA) regulation, set to be implemented in early 2024, is poised to revolutionize the European crypto-asset landscape. The legislation's primary objective is to balance safeguarding investors and promoting financial stability, while nurturing innovation and bolstering the appeal of the crypto-asset sector.
MiCA is designed to regulate crypto-assets that fall outside the scope of existing financial services legislation. Its key provisions encompass various aspects of issuing and trading crypto-assets, including asset-reference tokens and e-money tokens. The regulation emphasizes the importance of transparency, disclosure, authorization, and transaction supervision to ensure the integrity and reliability of the market.
One of the pivotal aspects of MiCA is its strict measures against market abuse in any crypto-asset transaction or service. It aims to curb unlawful activities such as insider trading, unauthorized disclosure of inside information, and actions that can potentially disrupt or manipulate the crypto-asset market. By instating these rules, MiCA strives to create an environment that is conducive to fair and transparent practices within the industry.
In a time when the crypto-asset industry is rife with uncertainty, MiCA will fortify investor protection, prevent misuse of crypto-assets, maintain financial stability, and safeguard against market abuse and manipulation.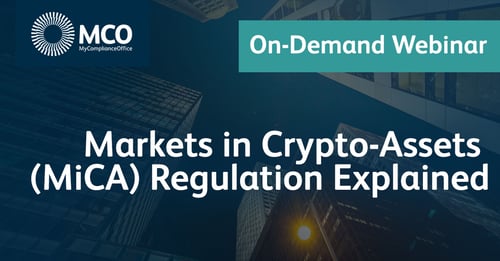 If you would like to know more about the regulation and what it entails, watch this on-demand webinar with Mark Browne, Partner at Clerkin Lynch LLP. Watch it now!
Employee Compliance for Crypto Firms
Crypto firms must prioritize employee compliance to mitigate potential financial and reputational risks arising from the ever-evolving demands of regulatory compliance. To address this, MCO offers the Know Your Employee Compliance Suite —a comprehensive solution that enables firms to manage conflicts of interest and code of conduct issues proactively. By leveraging this integrated platform, companies can effectively monitor, identify, and resolve conflicts of interest while also ensuring compliance with the anticipated changes in the regulatory landscape.
Additional Resources