A glance at the U.S. Securities and Exchange Commission's Rulemaking Index shows activity on over a dozen rules before the first half of 2023 is even over. That level of activity continues the momentum from 2022, which saw 34 rules proposed or finalized. With so much activity across a wide range of regulations, how can firms keep pace?
Proposals of note include:
Reopening of Comment Period for Modernization of Beneficial Ownership Reporting
Electronic Submission of Certain Material Under the Securities Exchange Act of 1934
Cybersecurity Risk Management for Investment Advisers, Registered Investment Companies, and Business Development Companies
Cybersecurity Risk Management Rule for Broker-Dealers, Clearing Agencies, Major Security-Based Swap Participants, the Municipal Securities Rulemaking Board, National Securities Associations, National Securities Exchanges, Security-Based Swap Data Repositories, Security-Based Swap Dealers, and Transfer Agents
Regulation Systems Compliance and Integrity
Prohibition Against Conflicts of Interest in Certain Securitizations
The high levels of rule-making activity reflect the SEC's robust approach and record-breaking enforcement in 2022 under chair Gary Gensler. 2022 saw the agency file 760 enforcement actions and assess a record $6.4 billion in penalties. With so much potential regulatory change on the horizon—and so much on the line if firms fail to comply—it's incumbent on firms to keep track of all of the moving pieces. Join MCO for an on-demand webinar that will help you get a handle on the regulatory updates and priorities that matter most to your firm.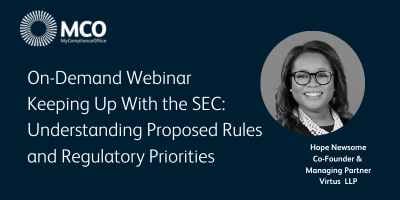 On-Demand Webinar
Join Hope L. Newsome Esq., co-founder and managing partner of Virtus LLP, for a session to help you make sense of recent SEC rule-making activities and how they'll impact your compliance program.
Hope will cover:
2023 SEC Regulatory Priorities
Overview of proposals around conflicts of interest, insider trading, cybersecurity, ESG, and other key proposed changes
Impact of recently adopted amendments on reporting, disclosures, and insider trading plans
Practical guidance on steps firms can be taking right now to stay up to date and ensure readiness