After a successful week, the Hong Kong FinTech Week 2020 came to an end on Friday, Nov 6. The three-day main conference featured debates and panel sessions covering all aspects of FinTech and RegTech. In partnership with Enterprise Ireland, MCO attended the event with other 1.2 million viewers and several exhibitors.
The event focused on the opportunity to use fintech to grow and maintain a resilient economy. During these challenging times, fintech has helped businesses build trust, and financially empower society in the post-COVID-19 world.
"Hong Kong has shown remarkable resourcefulness throughout this testing time. We continue to be the region's leading financial services hub" – Mr. Paul Chan, Financial Secretary, HKSAR Government, at the opening speech of Hong Kong FinTech Week on HK's resilient economy.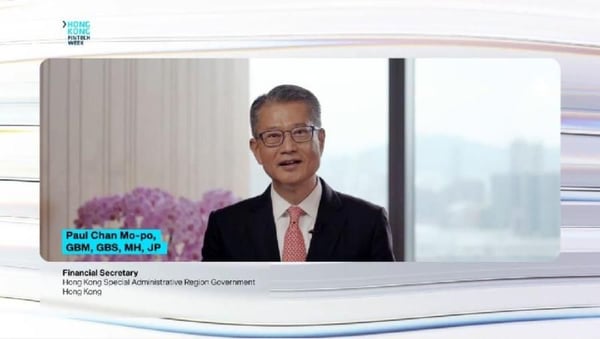 The FM Global Resilience Index, a tool that compares risk in nearly 130 countries, ranked Hong Kong as Asia's most resilient economy in 2020. According to Mr. Paul Chan, "Hong Kong become the first choice for investors due to its robust fintech ecosystem, strong regulatory regime, geographic location, and various schemes to support fintech."
During the event, many topics grabbed the attention, ranging from finance and technology trends to human society's future. Speakers provided insights on trending topics for the industry, such as virtual asset regulation, virtual banking, and artificial intelligence (AI).
We heard from Mr. Arthur Yuen, JP, Deputy Chief Executive, Hong Kong Monetary Authority, an excellent presentation on how we can harness the power of technology to transform Risk Management and Regulatory Compliance. His focus was around the changes that Covdi-19 sparked in business and how we should use it to adapt and embrace these changes to move forward. By embracing changes, Mr. Yuen means to adopt RegTech as it offers clear benefits to financial services, customers, and regulators.
Another great session covered how the global pandemic accelerates the digitisation of financial services, focusing on the banking sector. This session was moderated by Joseph Chan, Chief Digitalisation Officer, Hong Kong Monetary Authority, with the participation of two panelists Calvin Choi, Chairman & CEO, AMTD Group and Angel Ng, CEO, Citi Hong Kong and Macau.
They talked about the need for different strategies around innovation well before the pandemic hit but even more now. The panel concludes that there are no doubts that all banks need a digital plan and the speed of change is critical for Hong Kong's banking industry .
The Lesson
The main lesson from the fantastic week of presentations and discussions was that Financial Services shouldn't wait any longer to use RegTech solutions to enhance risk management effectiveness and reduce costs.
It's paramount for banks and financial institutions to use RegTech solutions to put automation in place. Consequently, Compliance can have more accurate alerts, free up slow processes, and save resources to focus on higher-value tasks. Regtech adoption in Hong Kong has made significant progress in recent years and the expectation is that it will increase even more in the next five years.
MyComplianceOffice is a leading provider of RegTech Solutions. Our technology can assist the Financial Services in maintaining their Conflict of Interest and Conduct Risk Compliance obligations. With customers present in 80 countries and over 450 customers using our Software as a Service solution, we are well placed to help your firm automate your manual compliance activities, no matter the jurisdictions you need to comply with. Contact us today to learn more.