As financial firms across Singapore continue their strong growth, managing compliance effectively brings increased challenges.
The MAS Regulatory Technology Grant is open now, and applicants are advised to submit their requests 3 months in advance of projects commencing.
The Monetary Authority of Singapore (MAS) launched its inaugural Regulatory Technology ("RegTech") Grant scheme.
The scheme helps Singapore-based financial firms (regulated by MAS) to enhance their risk management and compliance functions by leveraging technology solutions.
The RegTech Grant has two tracks: 1. Production Level Project and 2. Pilots.
1. Production Level Project Track
This track enables firms to apply for 50% of qualifying expenses, capped at $300,000 with timing spanning up to 18 months from project commencement date.
1. Pilot Track
This track enables firms to apply for 50% of qualifying expenses, capped at $75,000 for >200 staff OR
75% for <200 staff with timing spanning up to 12 months from project commencement date.
Common RegTech Outcomes
MyComplianceOffice (MCO) has enabled more than 1300+ firms in 105 countries with our risk management and compliance solutions.
We've helped clients in Singapore and across the globe see outcomes including:

Customers using our RegTech solutions cut down the time needed to manage risk and compliance tasks.

RegTech solutions replace manual applications like Sharepoint and Excel to streamline compliance management.



MCO's powerful dashboards give compliance officers and managers a bird's eye view of all activity.

More tasks and transactions can be processed without increasing staff numbers, boosting overall capacity.
The Benefits of Implementing a RegTech Solution
As the breadth of compliance responsibilities continues to expand in 2023, compliance teams will need to leverage RegTech solutions that directly address their business needs and empower them to keep pace and do more without additional headcount.
RegTech solutions are already helping departments around the globe to monitor and analyse employee behaviours, gain a consolidated view of activity, and make faster judgements on the data to identify risk and take preventative measures.
For example, MCO's
Know Your Risk
(KYR) module enables firms to set regulatory priorities, identify policy and procedure gaps, and deliver proof of adherence with metrics and documentation. The Regulatory Change Manager (RCM) also adds a regulation news and horizon scanning tool that makes it incredibly efficient to understand what regulators are communicating and how that might apply to specific business operations.
What Are Customers Saying About MCO Compliance Management Suite?
"The dashboards are amazing. As a manager, they keep me on top of what's happening. It gives me a perfect macro perspective on activity. The deal management system is another one of my favourite parts of MCO. And the business profile functionality has become our go-to any time we have questions around compliance."
- Australian MCO customer
---
Understanding the many forms of compliance risk
Driving more than "tick-box compliance"
Dealing with cross-border compliance complexities
Empowering company-wide compliance through RegTech solutions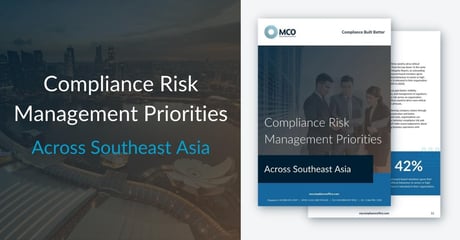 Alternatively, request your no-obligation demonstration of MCO.
Discover how we can help you automate your compliance management, stay ahead of evolving regulations, and gain complete confidence in your risk reduction strategy.