MCO a growing SaaS-based software company, and our employees make a significant impact on this success. We are pleased to show you the backstage of our operations, bringing you closer to our team members. In "meet a member of the team" series, we feature our people and the great work they do at MCO.

Today, we're delighted to introduce you to a member of our support team – Kara Keeler, who is based in our Hudson office.
Kara has been with MCO for over four years, and she works closely with our clients to address any queries, maximize usage of the software and make their experience when using our software as positive as possible. Kara provides guidance with smiles that our clients can practically hear through the phone.
Originally from the US, Kara, who holds an associates in Applied Technology, has vast customer service and sales experience.
Having worked closely with customers for over ten years and at MCO for over four years, Kara truly understands our software capabilities and has the knowledge and hands-on experience to ensure our clients are comfortable using the platform.
We asked Kara to answer a few questions about herself, and this is what she said…
Describe a typical day at MCO?
A typical day would include answering tickets, taking calls and answering questions from clients and working with my team to address customers queries. It's a very customer focus role, so I work close to customers all day. However, every day is different and we as a team are always keen to take on new challenges together.
What inspires you to do what you do?
My team is an inspiration, they are so nice and very supportive. It's rewarding to see clients learn about MyComplianceOffice because a lot of them were previously in a position where they didn't have control over their employees compliance activities. With our help, they find all the ways they can make their compliance program better.
What is your favourite thing to do outside of work?
I love photography and history. I have been shooting the renovations of a few old houses for a local contractor. So that combines the two in a way. Here is a picture of the Hudson River, where I love to visit and take photographs in my free time.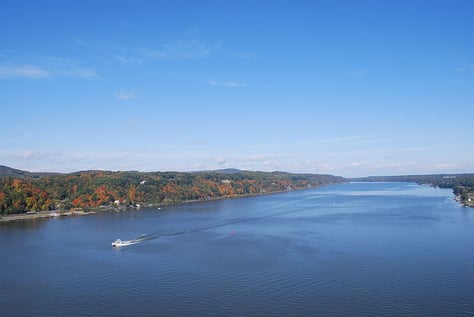 What do you like best about living in Hudson?
Hudson is an old town with an exciting history. It's a little town that keeps changing. It's cool to be able to watch it grow. Our office building for example was built in 1870 and was the first department store in Hudson. The building has been used as a movie set - they filmed a scene for the 1987 classic movie "Ironweed" on the first floor.
What is your favourite food?
I have two. In Hudson, we have an excellent Sushi restaurant, and we have an El Salvadorian Restaurant. So California Rolls and Pupusas (Papusa is a flatbread made with cornmeal or rice flour. In El Salvador, it has been declared the national dish and has a specific day to celebrate it).
What is something that we would be surprised to know about you?
I have 10 Nieces and Nephews - 7 girls from 29 to 11 and three boys from 12 to 10.